Top places to see in Shimla
Planning a trip to Shimla? Here is a list of some popular places to visit in Shimla. Make sure to plan your day before you start sightseeing.
The Ridge – An open platform that lies along the Mall Road in Shimla. Built in Neo-Gothic style, it gives a beautiful view of the mountains. All cultural festivals in Shimla are held on the Ridge.
Christ Church – This beautiful church with stained glass windows was built in 1846-1857. It is the second oldest church in Northern India.
The Mall – This is the main shopping street in Shimla from where you can buy souvenirs, metal crafts, woolen shawls, caps, etc. It is the place where you will find all showrooms, emporiums, restaurants, offices and banks.
Scandal Point – It is the highest point of the Mall area and is located on one end of the Mall Road. The place got its name after the King of Patiala, who had a crush on the daughter of the Viceroy of India, kidnapped her from here. Scandal Point has beautiful surroundings with the view of the green valley and snow covered mountains in winters.
Shimla State Museum – The museum has archeological artifacts, carvings, paintings and sculptures.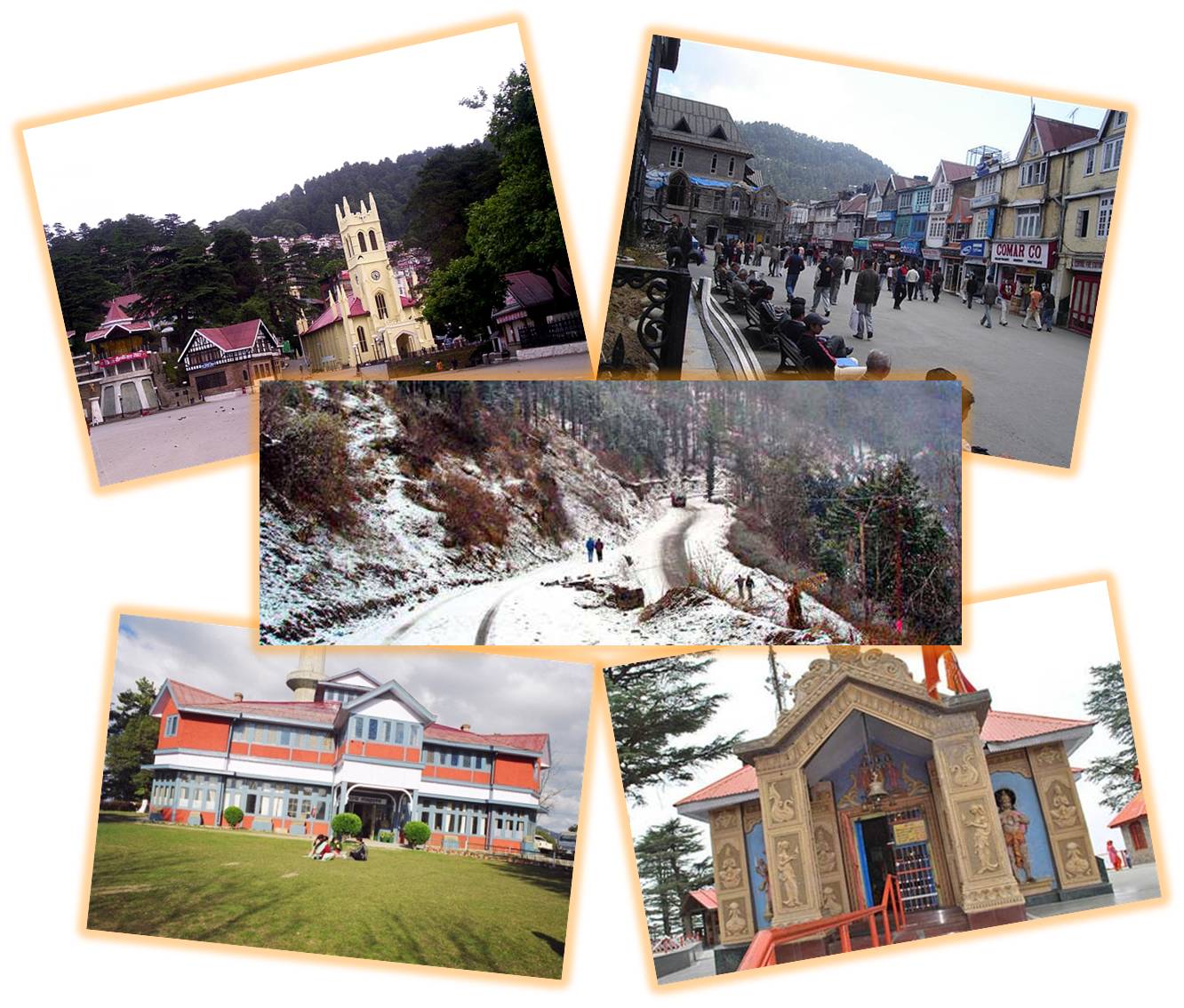 Himachal State Museum – Here you will find ancient historical sculptures, paintings, coins, photos, etc.
Jakhoo Temple – The temple is dedicated to Lord Hanuman. It is 45 minutes walk from the Ridge. One can also take a pony ride up to the temple. At a height of 8048 feet, it is the highest point of the Shimla Ridge.
Tara Devi Temple – This 250 years old temple is around 11 kmts from Shimla. From the station road, there is a shortcut to the temple, 5 kmts distance, that goes from the middle of the dense forests.
Summer Hill – At an altitude of 6,500 ft from sea level, the Summer Hill is situated at a distance of 5 kmts from the Ridge. It is a perfect place for quiet walks in the hills.
Gaiety Heritage Cultural Complex – This Gothic Victorian style complex was built 122 years ago. It was earlier closed for public but now it is opened for cultural events that are held here very year.
Kufri – At a distance of 14 kmts from Shimla, Kufri is famous for skiing during winters. The Himalayan Nature Park is in Kufri. The national park is home to a variety of birds and animals.
If you have more time in hand, you can visit Mashobra (10 kmts from Shimla), Wild Flower Hall (13 kmts from Shimla) and Naldehra (23 kmts from Shimla). In case you are looking forward to book a trip with a travel agency, don't forget to check out the Southern Travels holiday package to Shimla. It covers most of the popular places to visit in Shimla including Kufri.